The Lazy S Ranch is a 1000 head cow-calf operation that's been in the beef business for 50 years.

Located West of Edmonton, Alberta in the Mayerthorpe area, it is owned and operated by Stewart and Doreen Ainsworth and their family's, consisting of sons Grant and his sons Carson and Jace, Greg and his wife Tracey & son Jade, and daughter Donna and her husband Larry and their daughters Shaylyn & Lindsay. Daughter in law Claire runs the local Vet Clinic in Mayerthorpe and Whitecourt.

Our cowherd has been a work in progress for the past 48 years…retaining the top end replacement heifers and putting them back into our cowherd for four and half decades, has allowed us to cull harder on the cowherd and rewarded us with a phenomenal set of productive cows that we are so proud to own today.

We are a seed-stock operation that annually markets 200 plus breeding bulls in our annual Bull Power Sale the last Saturday of January.

Lazy S Ranch raises three breed lines of cattle - Red and Black Simmental, Angus and SimAngus Beefmakers. They are red and black in color and packaged in polled look-a-like groups with a large selection of bulls to choose from at an affordable price.


Lazy S fed steers.
We add value to our own calves by finishing out the bottom end home raised steers and heifers, this provides us with valuable information how our cattle perform on feed and on the rail.

Lazy S Ranch is a self-sufficient ranch, growing its own feed, annually consisting of 5000 acres of grain and legume silage, along with dry hay.


Over the past four and half decades, we have marketed over 4500 bulls to customers based from British Columbia to Prince Edward Island and ranches in the United States.

Lazy S Ranch
Stewart and Doreen, Greg and Tracey, Donna and Larry, Grant and Claire
-------------------------------------------------------------------------------------
We add value to our own calves by finishing out the bottom end home raised steers and heifers, this provides us with valuable information how our cattle perform on feed and on the rail.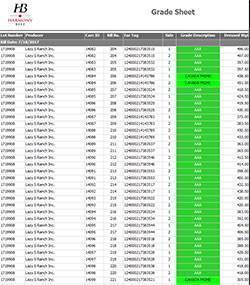 Click Here To View >
Dressed wts listed on grade sheets far right column are per half carcass wt


2017 Lazy S Fed Steers, brothers to the sale bulls – 100% AAA
2017 Fed Heifers – 95%AAA & Prime
> Click Here To View
--------------------------------------------



--------------------------------------------

Lazy S 53rd Annual Bull Power Sale
Sat., Jan. 29, 2022
--------------------------------------------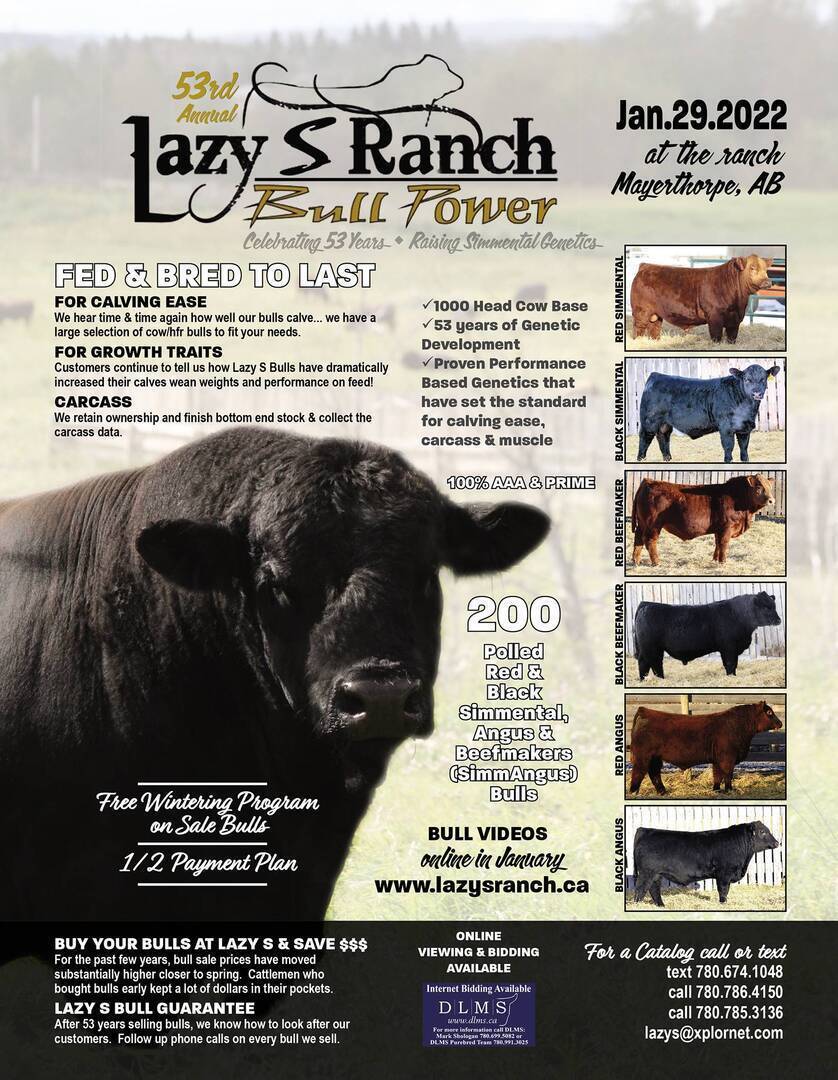 View Weight & Scrotal
View Flip Catalog
View PDF Catalog
Added Lots
View Videos


--------------------------------------------
2020 Sale Results

--------------------------------------------

July 13, 1943 – October 2, 2021 It is with great sadness that the family share the passing of Stewart Jackson Ainsworth. Stewart was a devoted husband to Doreen and father to Greg (Tracey), Donna (Larry Arthur), and Grant (Claire). He will be profoundly missed by his grandchildren Jade, Shaylyn, Lindsay, Carson and Jace. Stewart is also survived by his brothers Marvin and Max Ainsworth. Stewart was born in Rimbey to Kelsa and Ruby Ainsworth. His love for farming and cattle began at a young age and grew from there. He was a lifelong rancher who took great pride in his family and farm. He worked hard for many years to create a ranch name and quality cattle that fit his very strict specifications! He instilled that same work ethic and pride in his children and grandchildren, which will live on for generations. Stewart grew up in Byemoor, Alberta and married Doreen in 1967. At that time he worked for the Lacombe AI unit, AI'd cattle at the Bull Pound Community pasture and surrounding area, as well as starting their own cattle herd at the same time. In 1977, Stewart and Doreen moved the family North to Mayerthorpe and established Lazy S Ranch. Over the years, Stewart, Doreen and the family developed a quality purebred Simmental herd and had their first Lazy S Bull Sale in 1969. Stewart was extremely proud of the bull sales that have continued on now for over 50 years. He really enjoyed the friendships he made through the cattle industry.... delivering bulls and getting to know other ranchers across Canada. Family was always very important to Stewart. There was always time for family fun in things like 4H and team penning, but there was also still work to do! Even if the kids came home late, Stewart always made sure they were up and put to work right away... the cattle came before sleep! In the later years, he still impressed that work ethic on his grandchildren, who he was so proud of and loved deeply. An online memorial will be announced at a later date. If you so wish, memorial donations in Stewart's name can be made to the Young Canadian Simmental Association. #13, 4101-19 St NE Calgary, AB, T2E 7C4. 403-250-7979. Care entrusted to Bear Creek Funeral Home 780-830-7742 bearcreekfuneral.com
To see the full obituary for Stewart Jackson Ainsworth, click here
--------------------------------------------
IF YOU LOST A RAM KEY FOB AT THE BULL SALE PARKING AREA PLEASE CALL
780-785-3136.

--------------------------------------------
We would like to Thank everyone that came out and supported us at our 2020 Annual Bull Power Sale, we are extremely pleased with the strong intrest buyers and bidders showed in our program, words can not express the gratitude we feel to each and every buyer and bidder, friends and neighbors that made our sale a huge success.
--------------------------------------------
Congratulations to long time bull customers Pembina Ranch and Brady Ranches for topping the Market June 2 2017 Team Auctions. Pembina Ranch had the high selling yearling steers and Brady Ranches the high selling steer calves.

CLICK HERE TO VIEW
--------------------------------------------
NEW! HERD SIRE VIDEO'S POSTED –
SEE HERD SIRE SECTION