Lazy S Bull Power Program

This information will give insight into our operation, to see how your future bull is raised from birth to the following spring, when they leave to go to work at their future ranch.

It is very important to our own operation and to our customers that we raise trouble free cattle, calves that are born with ease, thrifty at birth and get up and suck on their own and have the performance to grow up and amount to something in the fall. We spend a lot of time and research on genetics' to ensure this happens.  

We work with our local vet clinic, Mayerthorpe Vet Services and developed a strong herd health protocol over the past 40 years.   We annually vaccinate the cowherd with Express fp 5 ,  Scourguard 4 kc, 8 way,  Ivomec and Safe Guard. 

Our herd bulls receive the same except for Scourguard.  When purchasing bulls for our own operation we purchase virgin bulls only, this prevents any disease spread.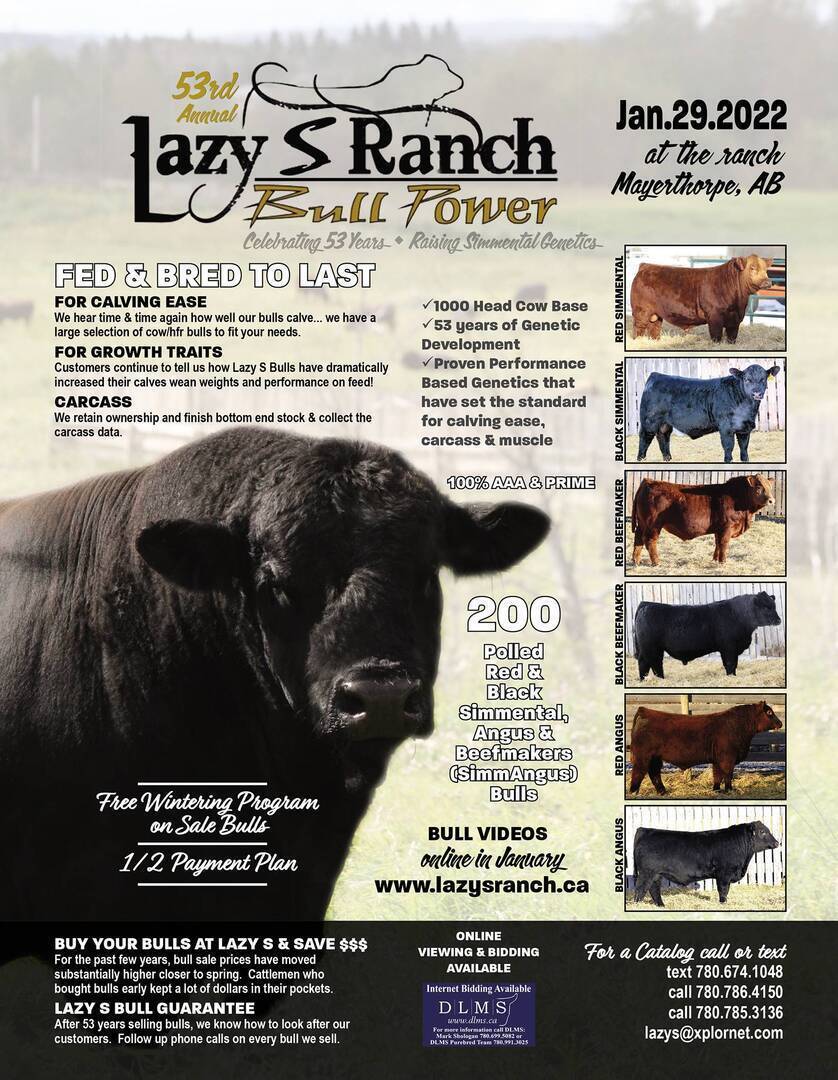 Winter Calving Season  
Lazy S winter calving season starts in February.  All calves are weighed within the first 24 hours of birth on an accurate scale and those are the weights you see in the bull sale catalog.  We steer at birth any bull calves for the following reasons -  over 107 lbs, difficult birth, any mobility difficulties, such as standing/sucking - we don't have many that come this way, but we make sure if we do get them they are a steer and not going out and causing a rancher grief.
All Calves are vaccinated in the spring before pasture – with Pyramid fp 5, Vision 8 Somnus with Spur and Presponse HM and double vaccinated in the fall with the same combination , they also receive one does of safeguard oral & invomec PO in fall.
All Calves are vaccinated in the spring before pasture – with Express fp 5, Vision 8 Somnus with Spur and Presponse HM

Moving pairs spring


Calves are raised on milk and grass NO Creep, we don't creep feed our calves to achieve artificial weaning weights.
In September calves are weaned and put on pasture close to the ranch and fed a high roughage growing ration, which they will stay on till delivery the following spring. 


In September calves are vaccinated again with same vaccination protocol as in spring and treated with ivomec
.
Marius Labentowicz - Nutritonist

CHAMPION FEEDS - Barrhead, Alberta


To  valued customers and potential buyers: 
The proper care, feeding and management of a young sire will insure that you will be happy with the return on investment if you purchase Lazy S Bulls.

The yearling bulls that have been fed at Lazy S will increase the genetic performance of your herd through increased weaning weights, carcass quality and replacement females.  By managing yearling bulls properly, your investment will return dividends for many years.


Nutrition is the main factor that influences "proper condition & weight" of bulls and thus their fertility.  At weaning time Lazy S bulls are started on custom bull growing rations that have been designed for development of the frame and muscle of growing bulls without fattening them.  There is no advantage to shoot for high rates of gain in growing bulls by feeding them large amounts of grain.  We do not feed Barley!

At Lazy S, they believe that the fertility of the herd bull is even more important than its growth performance.   So in addition to protein and energy, they make sure that the rations contain an adequate trace mineral package.  Therefore they feed Chelated zinc, copper, manganese, and organic selenium to enhance reproductive performance.


The cow herd also receives this mineral in the breeding season to enhance their reproduction.


Fertility Tested
All the bulls will have a complete fertility exam completed by Dr. Rick Katchiuk, from Alberta Vet Center, Red Deer, Alberta, completed in the spring prior to delivery. Rick is a bull fertility specialist and annually freezes semen for the ranch.


Delivery

We deliver the bulls free to Central Points – from B.C to Brandon Manitoba on bulls selling for $3,800.00 and up. 

East of Brandon - freight cost will be the purchaser's responsibility.    We will coordinate trucking.


British Columbia – we drop at these B.C. locations -  Dawson Creek, Prince George, Vanderhoof, Williams Lake, Kamloops and Armstrong @ Valley Auctions.
Free Wintering program

We winter all Sale bulls free of charge from sale time till delivery in spring.



Guarantee

We guarantee to provide you with a sound breeding bull, capable of passing a semen test, within 14 months of age. Should any Lazy S bull fail to be a satisfactory breeder, he will be replaced with a bull of equal quality or a credit given towards the purchase of another Lazy S Bull, no refunds.

We always carry a good supply of back up bulls. If you have a problem with your bull please call us immediately. We follow up with phone calls on all bulls sold!


Payment Plan
½ down sale day, balance with a posted dated cheque for April 1.
Interest free.
Buyers who are not in attendance sale day, will be invoiced by mail or fax or
email
.