Testimonials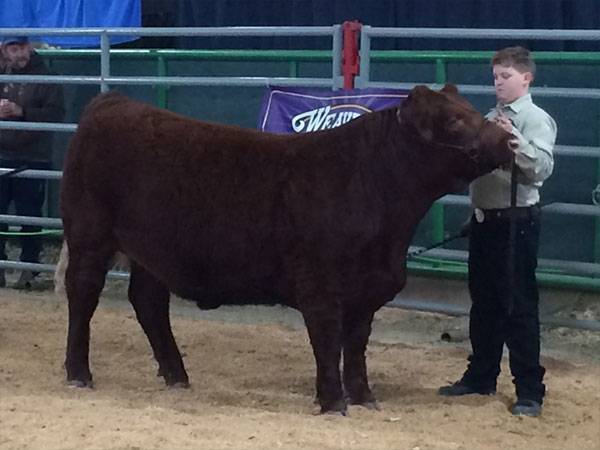 Brady Ranch, Lazy S Sired steer, Scott Brady on halter. PNE Reserve champion homegrown steer, PWF Champion homegrown steer, North Thompson Fall Fair 4-H Reserve Champion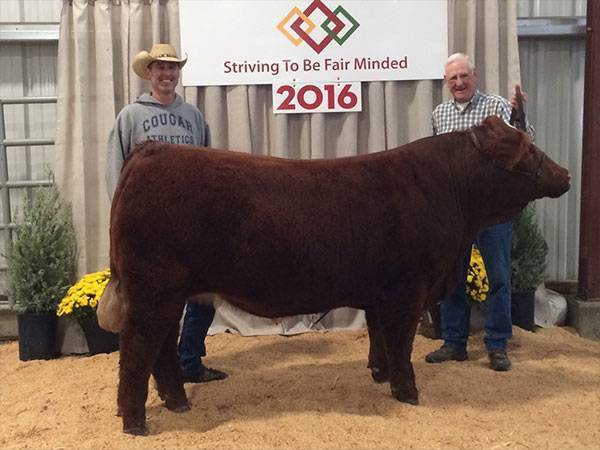 Brady Ranch, Barry Brady NTFF open single Champion, NTFF overall reserve Champion, PWF Open Singe Championship class

Thank you to Brady Ranch, Coldstream Ranch, Southern Ridge Ranch, and Bev & Monty Poirier Fir Mountain. We appreciate our loyal customers who come back annually to attend our bull sale and fill their herd sire orders.
Southern Ridge Ranch Fir Mtn, SK
Before utilizing Lazy S genetics we ran Charolais bulls and bought our replacements, since we made the switch to Lazy S Red Simmental & Red Angus bulls over 10 years ago, we now retain our own replacements & no longer buy them. We run Lazy s bulls with more power and the daughters we retain from them our phenomenal, they wean good big calves each and every fall. Since we starting using Lazy S Bulls we have increased our wean weights by over 100 lbs per calf in the fall. Our Steer calves had the best feed conversion rate and were the top performing pen out of 12000 head feedlot were we finished them in Sask.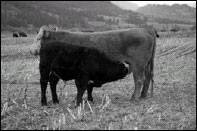 Cow-calf pair :: Fall
Lazy S Ranch Salutes Coldstream Ranch

Coldstream Ranch is owned and operated by Keith Balcaen. Their terrific crew of 15 full time employees help keep the ranch running smoothly.

Established in 1863, Coldstream includes 8000 acres of deeded land, 5000 rented acres and a crown lease of 180,000 acres of range land.

The ranch grows all of its' own feed on home land with the exception of a small amount of grain purchased for the feedlot. We grow 400 acres of grass and 700 acres of alfalfa which we get three to four crops annually, and 700 acres of corn at 25 to 30 ton per acre. We also put up 15,000 bales of grass/alfalfa hay each year.


Aside from our cow herd we feed up to 5,000 head in our backgrounding feedlot each year. All of our calves go into our feedlot with the exception of the replacement heifers. Our calves are finished at Western Feedlot in Strathmore, Alberta. The following is a breakdown of our calves performance in the Feedlot: feed conversion was outstanding at 5.6, with an Average Daily Gain of 3.95 lbs. Our calves sell to Cargill on the Grid Value-Based marketing program, as you can see below from the premiums we received, the results were outstanding. Premiums per head equated to $34.59 per head on the steers, totaling $46,785.04.


avg.
feed
conv.

avg.
D.O.F.

avg.
carcass wt.

avg.
yield

premium
range/lb.

$ hd
premium

total
premiums
received

5.6

140 days

814.03

61.79%

$.03-.06/lb.

$34.59/hd

$33,282.08

6.6

131 days

828

62.69%

$.03/lb.

$24.84/hd

$13,512.96

About The Coldstream Ranch
We run a commercial herd of 2400 mother cows which are British based Hereford and Red and Black Angus. We began introducing Lazy S Bulls seven years ago; our goal was to bring more length, hip, udder and foot into our cow herd. We have had great success with the Lazy S Bulls. Our cows now each have 25% to 50% Simmental influence, all from the Lazy S program. We have approximately 1000 solid black and black baldy cows, and 1400 solid red, red neck and Hereford cows. Our cows run from 1250 pounds to 1400 pounds on average - we like our cows to bring home half their weight or better in their calf. Our heifers begin calving in February and the cows in March each year.


Our calves are vigorous at birth and we get tremendous growth without becoming "extreme". Our weaning weights have increased steadily with our current weaning weight averaging 625 lbs. in heifers and 675 lbs. in the steer calves. These weights include our first calvers which are bred to Red and Black Angus bulls, many of which came from Lazy S as well.


Our purchases total over 120 bulls from the Ainsworth family and we can tell you that the Lazy S Bulls are exceptional performers, not just in getting their breeding job done but in their ability to travel our extensive types of range land and stay healthy. We have never had a foot problem with any of our Lazy S Bulls.


The Ainsworth family is a pleasure to deal with and we have thoroughly enjoyed reaping the rewards of their dedication to the breeding of Simmental and Angus bulls.


Keith Balcaen
Coldstream Ranch
Brady Ranches Testimony to Lazy S Ranch Bulls
After the urging of a friend in the livestock marketing business, I purchased 5 bulls from the 2003 Lazy S Ranch production sale. Unable to attend your sale in person, I had a friend purchase these bulls and waited in anticipation to see them, as I had never done this type of purchase before. This was a dramatic move away from my usual bull source, and into an unknown herd. I had been watching the Lazy S production sales and something told me I should attend a sale and see what was on offer.


Now I was invested in your bulls, never having met you, nor seen your cattle but I was impressed by the bulls when they were delivered in April of that year, and also now being able to meet Stewart and visit. I liked the bulls, and after having an accident with one, he was replaced without question, while I awaited the insurance. I was also more than impressed with the replacement. I also thought it prudent that I see some of the bulls that had been used, so visited the Coldstream Ranch near Vernon to see what mature bulls, and their offspring looked like. I was so very impressed.


I attended your sale in 2004 and purchased 5 more bulls. By the time I received them I had calves on the ground, and they were super looking. Now to await for the results at sale time.

All summer I could see calves from a distance that were longer, thicker and of a different type than I had produced before. They were always Lazy S calves when I read their tag. When the auction company came to list my calves, they were so impressed with my calves, they also could pick out these "new" calves and told me they had never seen such a change in a herd of cattle. 90 of my steers averaged 705#, and 60 averaged 603# on Oct.7, 2004.


I am very excited to see the offspring from the Black Simmental, as well as the Red bulls I purchased from you when I start calving in 2005. I am very impressed with your service, support, the genetics and uniformity of your cattle and will be attending more of your sales to enhance my weaning weights, quality and uniformity of my herd. At a time when things are tough, it is so important to have quality and weight in a product that gets sold by the pound. In one group of calves I share crop, the value of product on 48 calves was only $500 less in 2004 than in 2003, even though the price was $.20 per pound less.


I am pleased to be linked to your program and will see you at next years sale.

Thanks,
Barry Brady
Brady Ranches, Barriere B.C.